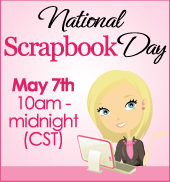 Yesterday was such a busy day for me that I decided to make today (Sunday, May 8th) my NSD! As Rebecca mentioned in her previous blog, Robyn aka My Pink Stamper celebrated NSD hosting an all day event filled with challenges and giveaways! So join the fun at http://www.mypinkstanper.com
Alright, here are rules and guidelines for the challenges...
*You may only enter once for each challenge.
*Even though this is National SCRAPBOOK Day, your projects do not need to be limited to layouts. Feel free to make a card, scrapbook page, mixed media, or 3D item for your entry as long as you are in the challenge theme.
*Use what you have! Do your BEST with your own supplies. It will truly be a challenge for all of us that way. :)
*It must be a project that you made SPECIFICALLY for the challenge and not previously. When you are posting it on your blog, please link back to mypinkstamper.com so that your readers will know what challenges you are referring to.
*There will be a new challenge posted every hour but I will not be closing this until Monday night so those who need to participate later still can. However, it is truly a challenge if you try to complete one in the hour.
Yay! I'm so excited!